LUBCON SUPER XV is a superior quality multi-grade engine oil multi-grade motor oil, blended from highly refined paraffinic base stocks and a sophisticated additive package.  LUBCON SUPER XV is produced with a unique formulation which prevents deposit formation and protects the engine against soot build-up for prolonged engine life and to maximize engine durability. LUBCON SUPER XV advanced chemistry formulation reduces friction, fuel consumption, extended drain time and engine component wear. LUBCON SUPER XV is designed for naturally aspirated and turbocharged car engines. It is particularly suited for high-performance petrol, diesel and turbocharged passenger cars, four-wheel drive vehicles, and light vans.     
Specifications:                     
Exceeds Performance Level: US. Military MIL-L-46152D, API: SJ/CF                                                                                                                         
| | | | |
| --- | --- | --- | --- |
| Property: | Test Method: | Typical Values: | Typical Values: |
| SAE Viscosity Grade | SAE J300 | 15W-40 | 20W-50 |
| Relative Density @ 150C | ASTM D4052 | 0.883 | 0.889 |
| Kinematic Viscosity @ 400C | ASTM D445 |     100mm2/s |     118mm2/s |
| Kinematic Viscosity @ 1000C | ASTM D445 | 14.5 mm2/s | 18 mm2/s |
| Viscosity Index | ASTM D2270 | 120 | 120 |
| Flash Point | ASTM D92 | 2300C | 2460C |
| Pour Point | ASTM D97 | -300C | -270C |
| Total Base Number | ASTM D974 | 9.0mgKOH/g | 9.0mgKOH/g |
PACKAGING
1L, 4L, 25L and 200L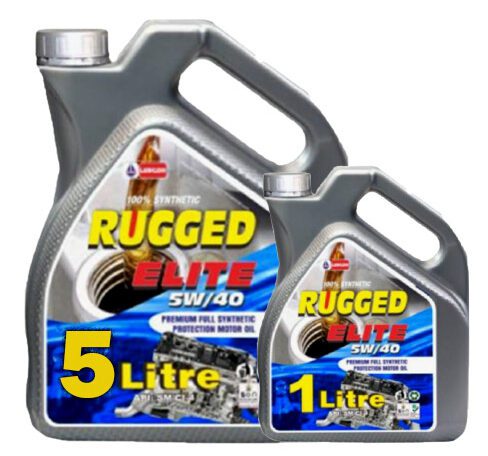 Rugged Elite 5w40 is a top-tier engine oil produced by Lubcon, designed to give new vehicles complete protection without compromise. It is recommended for use in all new vehicles with modern engine technology that requires using SAE 5W40. Also, RUGGED ELITE is made from carefully selected base stock and additives making the oil very effective in protecting the car engine as you use it.
Characteristics:
Better protection from wear

Better fuel economy

Cleaner engine than other available synthetics

Excellent protection in extreme heat.

Longer drain interval than any leading synthetic in the market.
Application
Drain bad/old engine oil from the engine tank.

Pour Rugged Elite 5w40 oil into the engine oil tank.
Where to get

Rugged Elite 5w40
Rugged Elite 5w40 is a product of Lubcon Limited and can be bought at the Lubcon store or any of our depots nationwide.